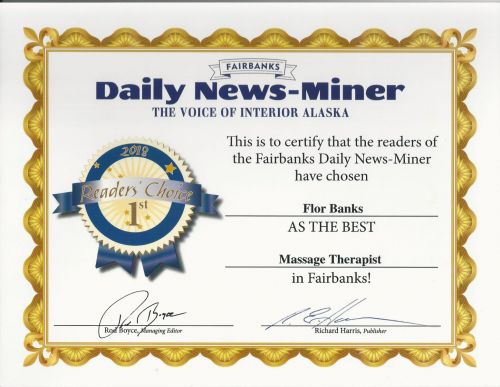 BEST place to go for a massage. Absolutely FABULOUS! I have been a client for nearly four years and I can only give praises for the excellent service I consistently receive. Flor is always welcoming, professional and most importantly, you leave feeling rejuvenated. AR
Ms. B is an amazing masseuse! She does deep tissue whenever I ask her to apply pressure. She also does relaxation massage if I just want to unwind and feel good. Flor also helped me when I needed her the most while I was pregnant. She does whatever you are most comfortable with (all you have to do is ask) You will not be disappointed! KD
Flor is an amazing masseuse and is super kind and friendly. She is always prompt and gives the best massages. She is very attentive and has a relaxing environment. I've been to several different people for massages before I met Flor and she is defiantly my favorite. I would recommend her to anyone looking for a wonderful, relaxing massage. A Ermi
Love Flor! Been going to her for years. Always friendly and professional. Gives an amazing massage ! Would definitely recommend her ! J King
Flor is a healer! Her calm, caring presence, firm, but tender touch and use of essential oils create a superlative massage experience. She is well educated, professional and experienced! Make an appointment today! MK
I've been getting massage from Flor for the last 4 years. She is an excellent therapist. Every massage has been catered to the muscle issues/complaints i've had. Flor brings positive energy, compassion & knowledge into every session. I highly recommend her. HV
Flor has been a Godsend when she retrained herself as a masseuse. She instinctively knows where the knot is but is experienced enough to know how to relieve it. She is caring and nurturing person who does an excellent job at whatever she puts her hands to. What a blessing she is to any client. BB
Flor is one of the most sweetest and compassionate people I know, her energy and love for helping others shows through her massage. As a very active/avid crossfitter, I have found much relief and benefit from Flors therapies. Whatever your needs, I highly recommend giving Flor a shot! ES
I am a licensed massage therapist and when I get body work done I go to Flor. She has awareness about the body and muscle tension. I always leave feeling amazing!! Thank you Flor. HB
Flo is very gifted and caring. She does a phenomenal job. She knows how to treat the person individually. Highly recommended! HS
Wonderful Massage and Therapist!! Can easily say that I lay down aching and sore and get up with relaxed muscles, no soreness, and ready to take a nap! TH
I had my first massage today from Flor. She was very fast at contacting me to get me scheduled. The room was pleasant and relaxing. The massage was perfect. She did a fantastic job focusing on the areas that were giving me trouble. So happy I contacted her. I will definitely be coming back. HD
I just had massage today. Flor was awesome! I definitely will come back again. Thank you Flor! AM
Flor's compassion towards her patients exceeds expectations. JS
We love Flor! So awesome at her job, great bedside manner, and very compassionate. Flor is amazing! Definitely seeing her more often! KR

© Copyright 2020 Flor Banks, Licensed Massage Therapist. All rights reserved.